Aluminum external roller shutters for SUPRO and SKYLIGHT Plus Termo roof windows: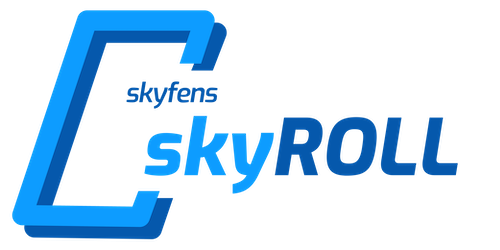 The SKYROLL roller blind is an excellent solution designed specifically for people seeking effective protection against light, noise, excessive sunlight, and high temperature in attic rooms. Our roller blind combines functionality, durability, and aesthetics, while providing convenient and easy control.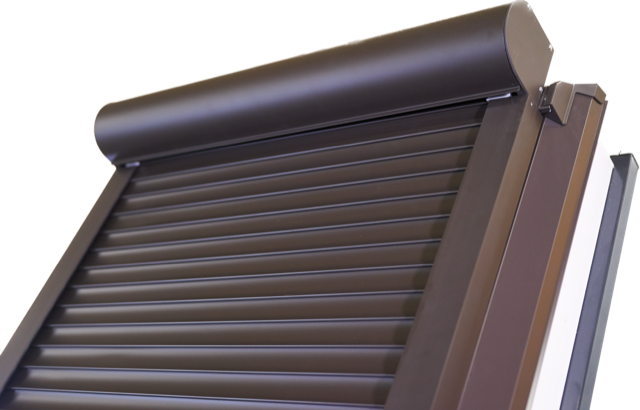 Main features of external blinds:
Protection against light and temperature: Our external roller blind effectively blocks excessive sunlight, allowing for a pleasant atmosphere in attic rooms. By shading the influx of sunlight, the blind helps maintain an appropriate temperature, protecting against excessive heat on hot days.
Protection against noise: The solid construction of the roller blind significantly contributes to reducing external noise.
Privacy: The external roller blind for roof windows provides an additional layer of privacy for the occupants of attic rooms.
Durability and weather resistance: The SKYROLL external roller blind is made of high-quality aluminum, guaranteeing its durability and resistance to weather conditions such as rain, wind, and UV rays.
Convenient control: Our external roller blind for roof windows can be controlled using a wall switch or remote control, providing convenience and flexibility. The control allows for adjusting the blind to any position with the window closed.
Smart home integration: With the use of appropriate components, the SKYROLL blind can be integrated as part of a smart home system and controlled, for example, through a smartphone.
Aesthetic design: Our external roller blind has been designed with aesthetics in mind, harmoniously matching the window. It is available in two color options: anthracite and bronze.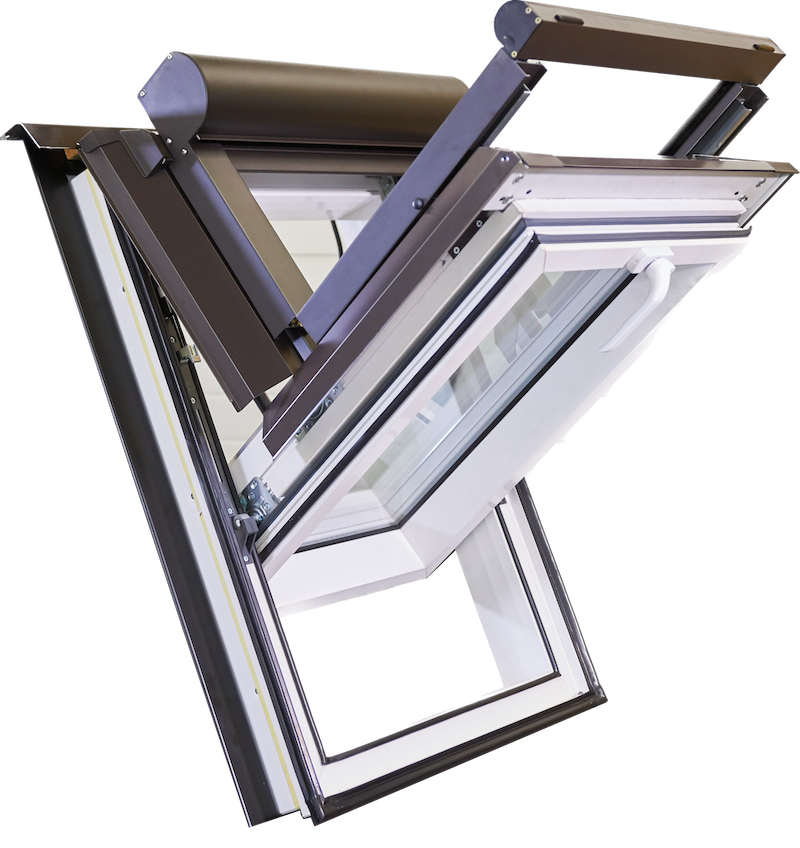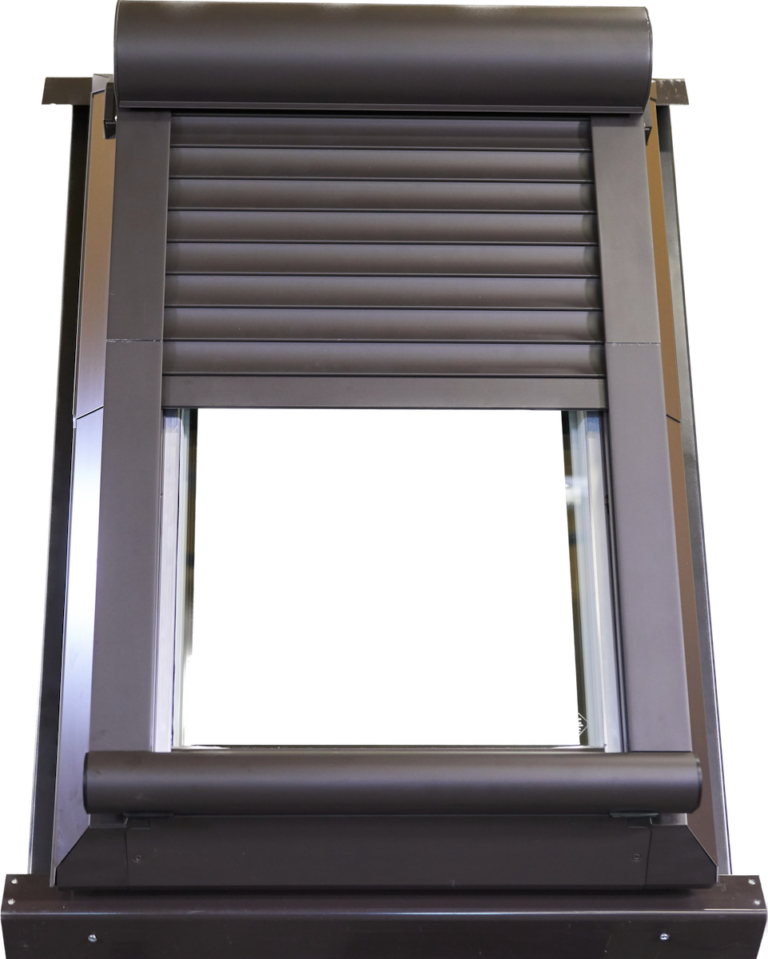 Manufacturer: SKYFENS – MC SYSTEM
Model: SKYROLL
Type: Roller blind with side guides
Operation: Electric, controlled by a remote control or switch
Material: Aluminum roller blind
Included in the package: Roller blind, mounting accessories, user manual, warranty
Features: Protection against room heating, privacy protection, increased security, sound insulation, roller blind design compatible with window opening system.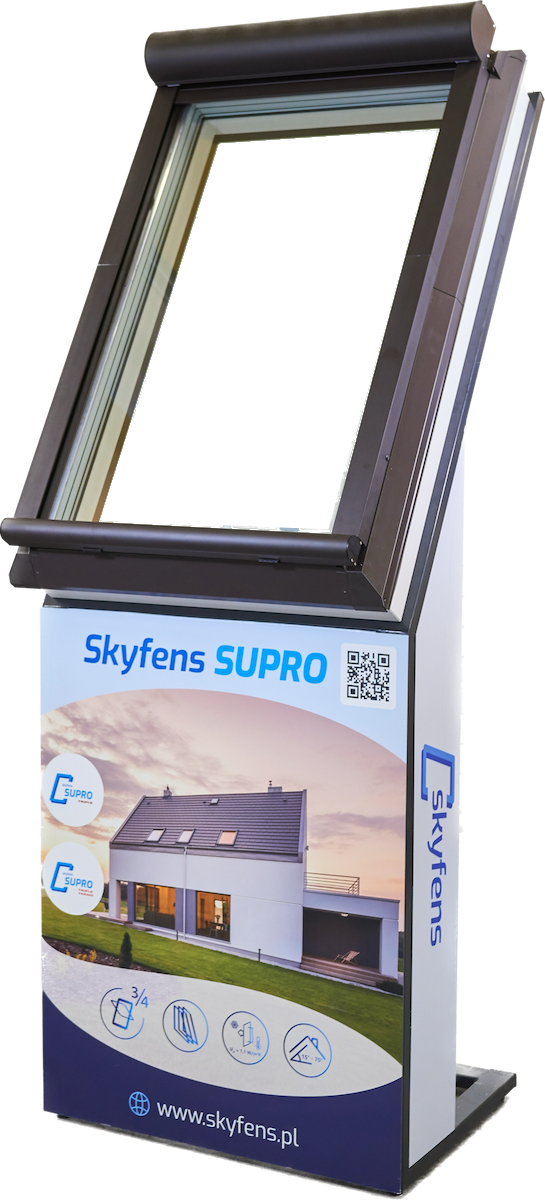 Electric power supply: The blind can be powered by a standard electrical source. In this case, the blind is equipped with an electric motor, enabling easy and precise control using buttons or a remote control. The possibility of connecting to the home electrical system provides full control over the blind's movement.
Solar power supply: If you prefer ecological and energy-efficient solutions, our blind can be powered by solar energy. Equipped with photovoltaic panels, a built-in battery, and a motor, the blind converts solar energy into electrical energy. This allows it to operate autonomously regardless of the time of day. This eco-friendly power supply not only helps reduce electricity consumption but also eliminates the need for electrical wiring.
Five-year warranty: We are confident in the quality of our external roller blind for roof windows, which is why we offer our customers a five-year warranty on this product. We guarantee that the blind will be free from material and manufacturing defects and will operate according to our specifications for a period of two years from the date of purchase.
Under the warranty, in case of any defects, our customer service team will be ready to provide professional assistance and take any necessary repair actions or replace damaged parts. Our goal is to ensure full customer satisfaction, so we will take all necessary steps to ensure the smooth operation of the blind.
It is important to note that the warranty does not cover damages caused by improper use, improper installation, or unauthorized modifications of the product. We encourage you to carefully review the warranty terms, which will be provided along with the product.
The five-year warranty is our commitment to quality and trust. It gives our customers peace of mind and confidence that by purchasing our SkyROLL external roller blind, they are receiving a reliable product that will serve them for a long time.